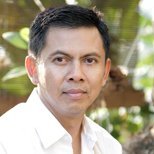 Sonny Sandjaya
Photographer
Sonny Sandjaya is a photographer based in Jakarta, Indonesia who specializes in architecture and built environment. He has been photographing architecture and design related images for over 15 years.
Sonny holds a bachelor degree in photography from RMIT, Australia. After graduating, he joined a commercial photography in Singapore and work extensively for advertising and corporate photography. His passion to photograph modern Indonesian architecture prompted him to return to Indonesia and start shot contemporary Indonesian architecture projects. Sonny's photos has helped many Indonesian architects and designers get published globally and reach award-winning status. His images have been published in Architectural Digest, GA, Houses Australia, D+A, Thames & Hudson, DOM, Home Decor, Images Publishing, DOM, etc.
Apart from architecture commissions, He has collaborated on long-term project with publisher making architects' monograph and other architectural books. In between these projects he also shot a lot of hospitality buildings in Bali and other Indonesian tourist destinations.